OME Synthesis: A New Route to Diesel Fuels?
Author / Editor: Dominik Stephan* / Dominik Stephan
English Version of "Die Technologien sind schon da: So wäre "grüner" Diesel bereits heute möglich". To german version.
Power-to-X is on everyone's lips: as energy storage, alternatives to battery-electric mobility or basic raw materials for industrial processes, the conversion of green electricity into material form is a cornerstone of all defossilization strategies. But how realistic is the vision of fuel from the socket? A test plant in Lower Bavaria, Germany, shows that the necessary technologies have long been in the starting blocks.
It doesn't take much to turn sunlight into visions: Tomorrow's value chain is supposed to be climate-neutral, at any rate sustainable, and preferably without fossil raw materials. But the technology that promises prosperity for all without environmental pollution will still be a long time coming. Today, no one disputes that it is possible in principle to produce fuels and basic chemicals from renewable energy and waste gases. However, these processes also have to be economic. And so institutes, companies and politicians seek the 'philosopher's stone' in chemical synthesis.
"The processes we need are actually already prepared," says someone who should know: Jakob Burger, Professor of Chemical and Thermal Process Engineering at the Technical University of Munich (TUM), is researching the direct synthesis of artificial fuels with his team at the TUM campus in Straubing in Lower Bavaria, Germany. The means for this is a reactor about the size of a table, plus distillation columns several metres high and a downstream membrane unit. A typical pilot plant set-up — but one that packs a punch.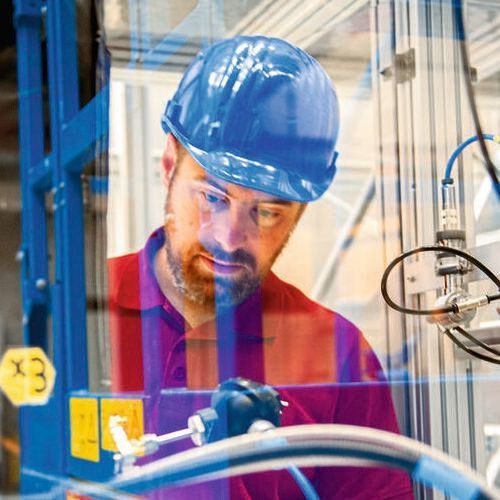 (Bild: Jan Troeschel/TUM)
In Straubing, oxymethylene ether (OME) is produced from methanol and formaldehyde in a multi-stage process — a synthetic mixture that, as an alternative to diesel fuels, could help to make the much-criticized compression ignition engine emission-neutral. In the reactor, Prof. Burger's team reacts methanol molecules on an acid catalyst to form dimethyl ether. Formaldehyde is then added to create OME. In practice, however, some effort is required to obtain the desired molecules with the right chain length (n = 3 or 5): "You can imagine it as similar to petroleum: The mixture that comes out of the reactor consists of different components that are present in different boiling fractions. We are interested in the medium-boiling one," Burger explains.
Enter the two distillation columns, which are up to 10 metres high: This equipment, designed, manufactured and supplied by the Iludest company from Waldbüttelbrunn near Würzburg, Germany, is used to separate the lighter and heavier boiling fractions. The company, which jokingly describes itself as an "engineering office with attached manufacturing", is a specialist in custom plants, as Udo Interwies, Managing Director Engineering, explains: "Distillation is 1,000 years old. The challenge is to implement it on a small scale and at low cost." The process requires high-pressure and low-pressure distillation equipment, made of metal and glass respectively, that is integrated into the overall process. This is not always easy, says Interwies: "Pilot-scale projects require instrumentation and control technology just like a large-scale plant. The challenge is to make the technology safe, but at the same time simple and practicable."