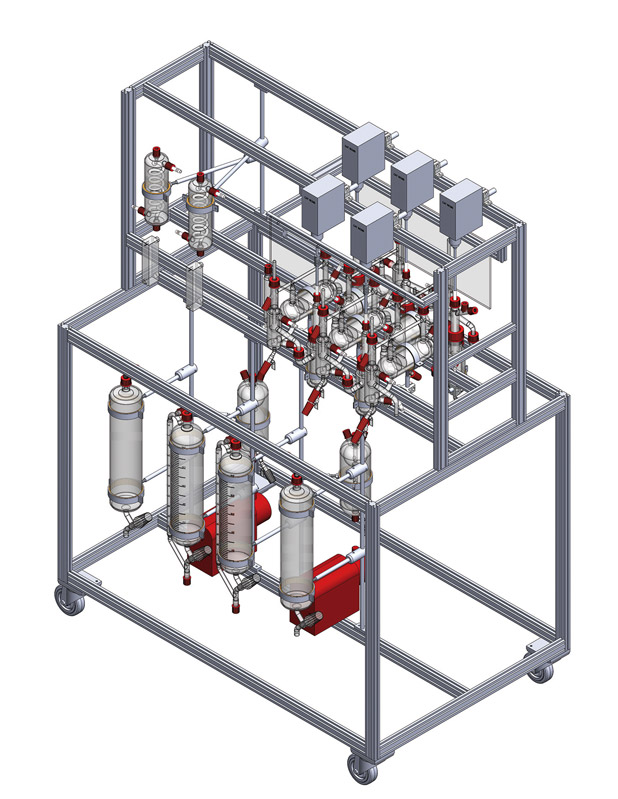 FISCHER® EMS - 250 / SR  Laboratory Mixer / Settler - Extractor
For liquid-extraction according to the Mixer-Settler-principle, design according to Dr. E. Müller (Lurgi).
With screw stirrer for intensive mixing of the phases, especially suited for metallic salt extraction. Pumping capacity and residence times are changed by adjusting the stirrer speed. An additional advantage of the unit is the application for extractions during which reactions of considerable density changes occur.
Typical application for this universal appartaus are:
metal salt extractions
mixtures with low surface tension
if the dispersed phase coalesces with difficulty
if variation in residence time of the phase occur in the extraction stages
if considerable changes in density are expected as a result of extraction
Extraction parameters determined by this unit can be scaled up.
All parts in contact with the product are made of borosilicate glass 3.3 and PTFE. Once adjusted, the Mixer-Settler-Extractor works maintenance-free and can be switched on or off without changing the hydrodynamic conditions.
Technical Data:
Total Throughput max. 5 l/h
Throughput per Phase 0,1…2,5 l/h
Settler Volumen 250 ml
Number of Stages 5
Stage Efficiency approx. 95%
Material Borosilikat glass 3.3, PTFE, Stainless steel
Mains supply 230 V, 50…60 Hz
Dimensions (L x B x H) approx. 1.250 x 1.000 x 1.500 mm (10 stages)